REPP, one of the UK's International Climate Fund's programmes, aims to boost the number of bankable small and medium scale renewable energy projects in sub-Saharan Africa, and to mobilise private sector investment in those projects.
REPP was developed by UNEP and EIB, is funded solely by the UK government and co-managed by GreenStream and Camco Clean Energy. Since its establishment in late 2015, REPP has supported over ten projects across a range of technologies in Nigeria, Kenya, Burundi, Ghana, Benin, Tanzania and Madagascar. In addition to technical assistance, the REPP has also provided support in the form of Results Based Finance.
Join us in exploring opportunties for powering Africa's clean energy transition. This session will involve an introduction to the operation of REPP and its role within UK climate policy by Leila Pourarkin, a keynote from the Hon Minister of State for Environment Ibrahim Usman Jibril highlighting Nigeria's transition to a low carbon economy, further introductory remarks by Peter Betts on the climate initiatives of the UK and the session will conclude with a panel discussion on the challenges of boosting the number of sound, bankable, small-scale renewables in Sub-Saharan Africa.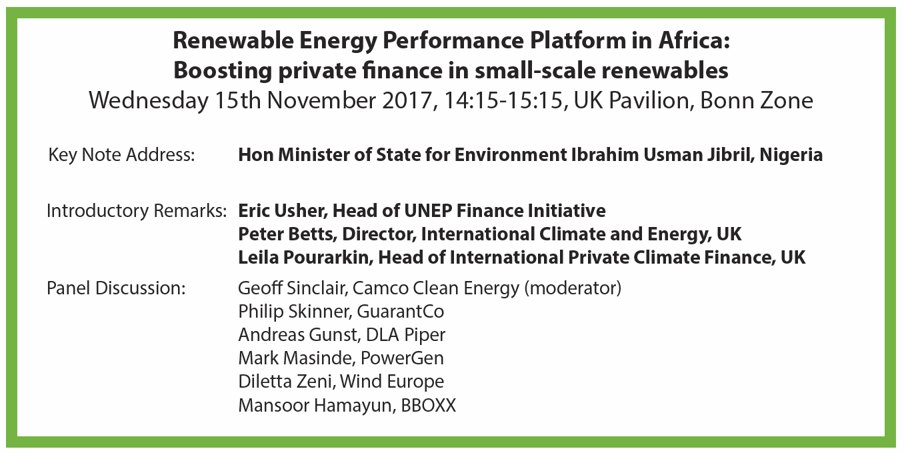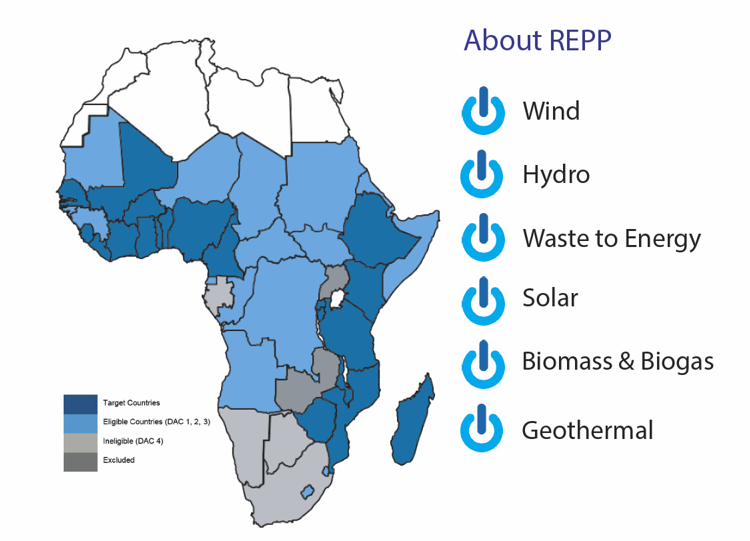 REPP provides early-stage development assistance to small and medium scale renewable energy projects in sub-Saharan Africa.
It is designed to implement the Sustainable Energy 4 All initiative. REPP aims to mobilise private sector investment in renewable energy in the region, using public nance innovatively and eciently to leverage private nance for improved access to clean energy across the region.

If you are interested in finding out more about the Renewable Energy Performance Platform (REPP) or would like to discuss a specific project, please send an email to info@repp-africa.org or visit the REPP Website www.repp-africa.org.